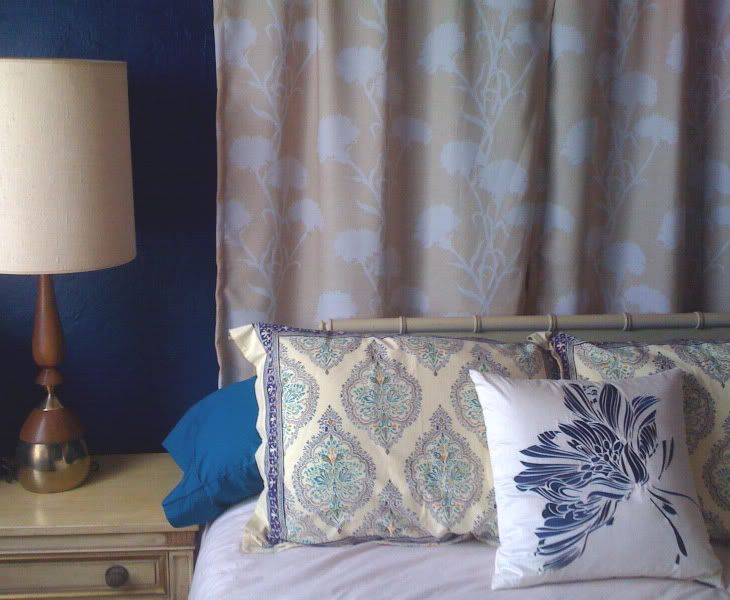 I recently worked on a quaint, one bedroom apartment in Santa Monica. My client, Shalini, wanted bold strokes mixed with soft neutrals to create an atmosphere that was part Hollywood glamor and part livable serenity. The rest of the apartment has a soft color palette of light yellow, gray, and pink with brown for grounding and silver for some glitz.
The bedroom was an area where we were not afraid to go dark because of ample natural lighting. Shalini wanted the room to be very relaxing and plush. She also wanted to incorporate a few Asian and Indian references to provide a subtle nod to her heritage. We were working within a very tight budget, so I had to get creative to create a sumptuous look and feel. The incredible bedding from Saffron Marigold became the inspiration for our color scheme. Quality bed linens are an area where you shouldn't skimp in a bedroom. This is your refuge and you should feel pampered.
One issue in the room was improper scale. The mismatched nightstands were too small for the bed and the width of the room. There were also extra pieces that added more clutter than function. We found these terrific nightstands at 45 Three Modern Vintage for a steal. They anchor the bed and show off the glamorous wood and brass lamps that are large and tall enough for the up-scaled nightstands. We found these on Ebay, as well as the bamboo headboard. These items would have been at least twice as much in a store. I like shopping online, but nothing beats working with local merchants for their vast knowledge and it keeps these great stores OPEN. You will generally find more quality for less money when you buy vintage and antique pieces. Mixing new and old also creates a sense of timelessness.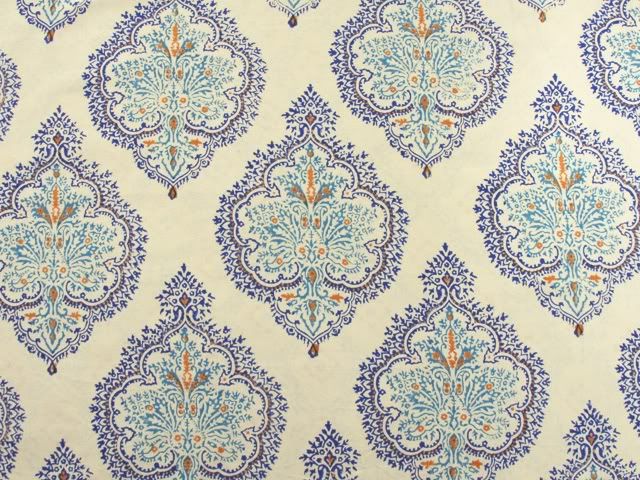 We decided to go with dark navy blue walls to add drama and depth. I think dark blue makes a great neutral because it is calming like the night sky and other colors look great with it. We popped in the turquoise of the bedding in the satin cherry blossom custom drapery. There are so many gorgeous and durable fabrics out there that will not break an arm and a leg. I am very lucky to live in Los Angeles where quality, economical design materials are plentiful. If you don't live in such an area, the internet is a great resource. You can order samples easily to see them in person.
In order to save money, you keep existing furniture that works such as Shalini's nice, modern, white vanity. We hung the leaning piece of mirror in the living room and put in a large curvy gold mirror which I found in an antique store for less than $100. We used gold as our glitz element in the bedroom, but sparingly. Light buttery yellow, white, and cream accents pop against dark blue walls and dark brown curtains. We replaced the standard flush lighting with a gold vintage chandelier in the bedroom and we created a light out of a capiz shell lamp shade she already owned. The fabulous black and white shower curtain from Dwell Studio compliments the floor tiles and the light pink walls in the bathroom. All of this adds up to a Luxe look for a whole lot less.