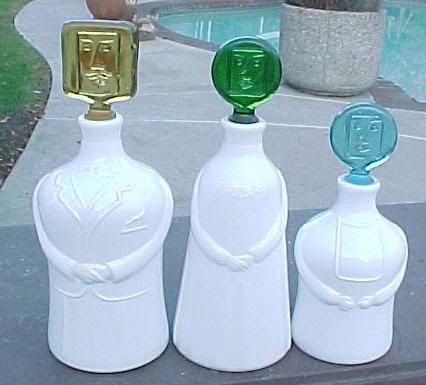 The Italian Lobeco bottles pictured above are the perfect example of a marriage between Victorian and Mod style. The modern style became more curvaceous and ornamental in the 1960's. Fashion and Interior Design began to take a cue from the more ornate periods in our past such as Rococo, Art Nouveau, and of course, Victorian. When the hippies moved to San Francisco and set up their psychedelic homesteads in the land of brightly painted ginger breads, a new style fusion was born. Florals and damask patterns were back on top, and they were infused acid colors and a sense of fun. The groovy grandma syndrome was born. Lace became cool again and Pop Art style gave new life to old forms. Most people think of the Victorian era as dark and musty because of the profusion of heavily carved dark wood furniture. Plentiful and colorful ceramic and milk glass accessories added visual excitement to these rooms which were generally painted in rich, bold colors. The Mod generation turned this up a notch, but they abandoned all of the formality that went with it. I have pieced together some fabulous Victorian accessories and their Mid-Century counterparts. Sometimes it is hard to tell which of these periods the item is from. We should all open our eyes in 2010 to the design inspirations from the past and let it be our road map to the future.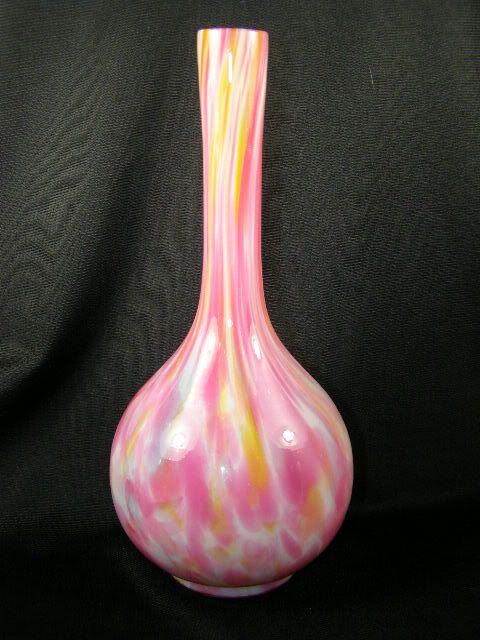 This Victorian vase looks very modern. This profusion of orange and pink was called " End of Day" glass because it resembled a sunset.
The vase above would look stunning with this flower power wallpaper from the 60's.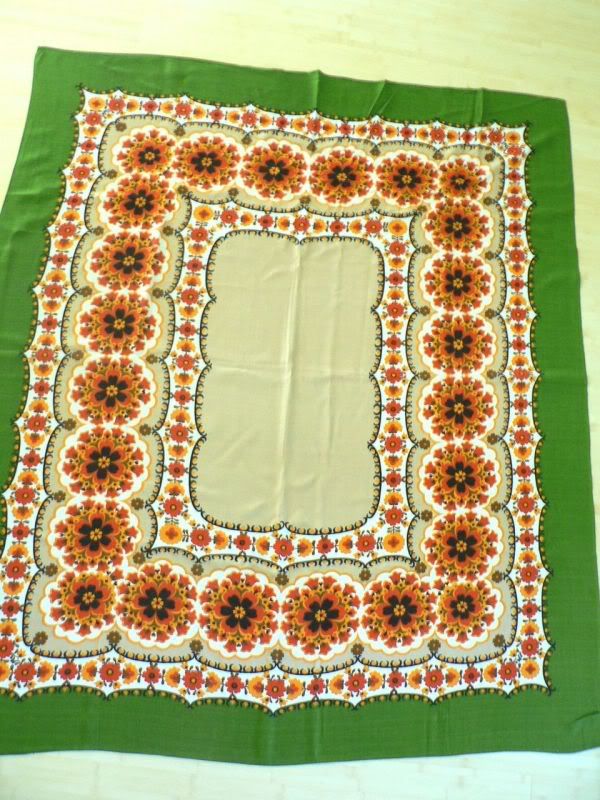 This tablecloth from the 1960's is very "groovy grandma"
This whimsical "Victorian" covered dish was produced in 1963.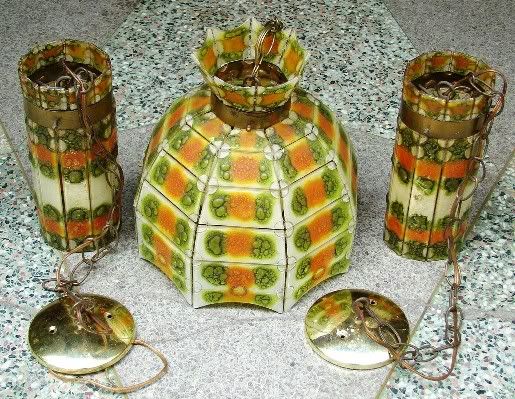 Tiffany style light fixtures became the rage again in the 60's and 70's. This set is from the Higgins company.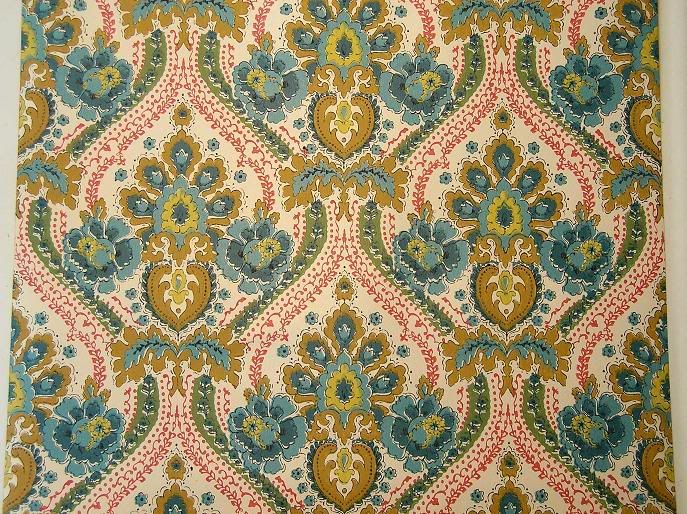 This exotic 1970's damask could set the stage for a Victorian inspired room.
These blue hurricane lamps with milk glass bases were manufactured in 1955.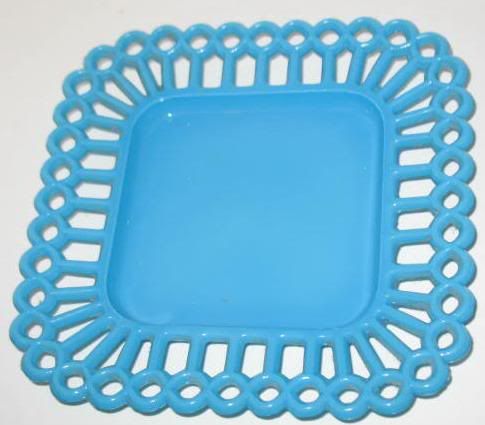 This blue milk glass tray was produced in the late 1800's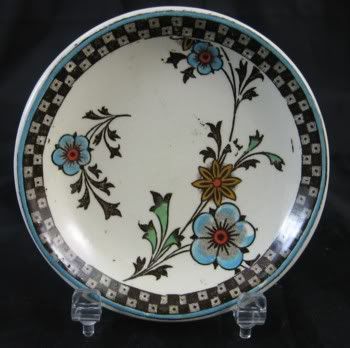 This china pattern from 1883 looks very contemporary.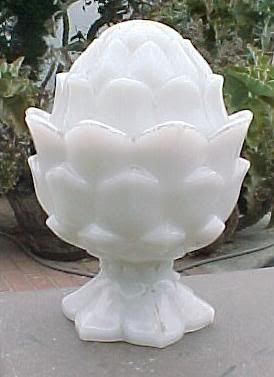 This Victorian milk glass artichoke is a timeless accessory.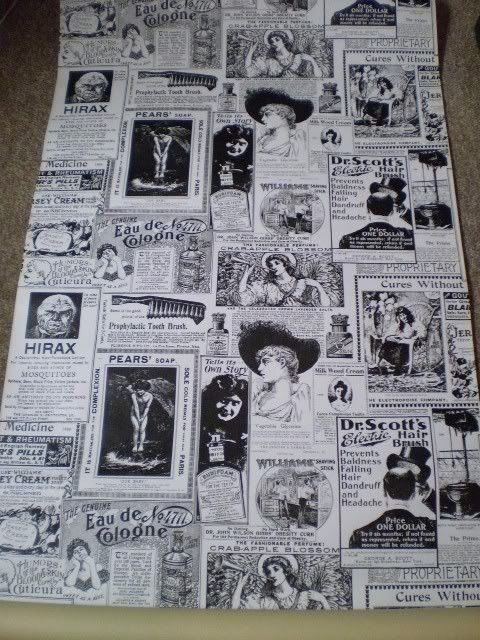 I love this 1970's wallpaper with the Victorian advertisements.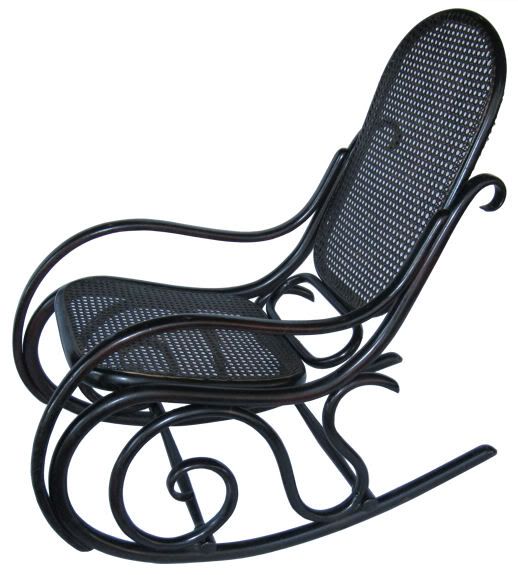 This Thonet bentwood rocker was produced in 1904. This style became popular again in the 1960's.